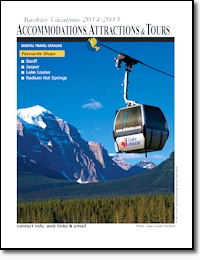 The Canadian Rockies Travel Guide
2014-2015 Edition
Vacations in the Canadian Rockies
Accommodations, Attractions & Tours

Vacations in the Canadian Rockies can be a dream come true. Download this free travel guide and start planning now!
The accommodations in both the BC Rockies and Alberta Rockies are world class, the attractions, guided tours & excursions exhilarating! And, the towering Rocky Mountains are an experience of a lifetime.
You are at the top of a continent. The Rocky Mountains are the birthplace of North America's great rivers, where massive icefields can be explored and adventures begin.
Let the expedition guides of the Canadian Rockies take you mountain climbing, white water rafting, horseback riding or flyfishing, in BC or Alberta. Discover hiking and mountain biking trails, unparalled wildlife viewing and a wide variety of natural and historical tourist attractions. Tour operators will take you by rail or motor coach to experience some of the most awe inspiring scenery in the world.
The accommodations are as varied as your tastes and budget. Choose the elegance of a grand hotel, with fine dining and dancing, or a full service wilderness lodge with its crackly fireplace and hand hewn log walls. Or, make the home base for your Rockies vacation a modern motel or a rustic cabin in the woods.
The Canadian Rockies Vacations, Accommodations, Attractions and Tours Catalog is a new trip planning guide for travelers planning a Canadian Rockies getaway.


(file size: 2.70MB)
Right click "save target as" to save to your hard drive.
Left click to open on-line (high speed connections)
See The Rockies
www.seetherockies.com
Visit of sister website and learn more about the Canadian Rockies. Plan your Rocky Mountain vacation. Map driving routes, book hotels, resorts, guest ranches and mountain lodges. Explore Canada's national parks, including Banff National Park and Jasper National Park.

Hotels in Alberta Canada
www.hotelsinalbertacanada.com
Featuring hundreds of hotels in Alberta, Canada. Find & book online.
Have Your Business Listed:
The Canadian Rockies Vacations, Accommodations, Attractions & Tours Catalog is a trip planning guide for travelers planning a Canadian Rockies getaway.
If your British Columbia or Alberta business offers visitor accommodations, attractions or guided tours in the Canadian Rocky Mountains, and you would like to be listed in the latest addition to our family of vacation catalogs, contact us today.
Canadian Rockies Travel Guide - A part of the BC Adventure Network. BC's largest travel network.
© 2013 www.bcvacationguide.com Interactive Broadcasting Corporation
Website Content Management System from
Interactive Broadcasting Corporation.